My campaign remains three words KEEP DUES LOW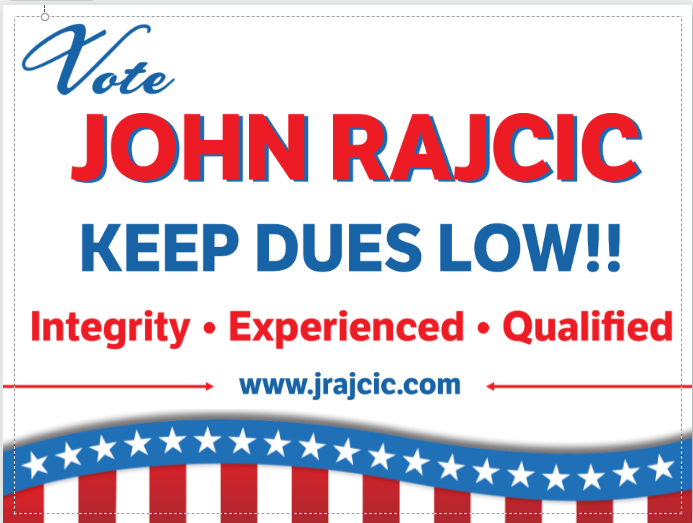 ABOUT JOHN RAJCIC (Ragic like magic)
My campaign remains three words, KEEP DUES LOW. The population of the Estates has been static at 10,000 for over10 years. I am a critic and divergent thinker. Long range planning does not deal with future decisions but with the future of present decisions! There is wisdom in always exploring the counterpoint. The past defines the present. The golf course renovation, a past decision, was to require less maintenance. Golf Course maintenance is our albatross. Relying on experts has given us a turf reduction boondoggle, poor lake expansion, costly price of effluent water, ADA requirements and more! HOA dues have risen to $1560 annually. The annual dues in 1995 were $480, which is equivalent to $883 today. $1560 is a dramatic increase.
EXPERIENCE –VP/GM -Kawai , a manufacturer and distributor of quality pianos. Line responsibility for bringing a piano assembly plant on line. Deputy Superintendent Irvine-responsible for construction of schools, stadium and parks. Certified Chief Business Official. Adjunct Professor, taught economics, organizational theory, accounting and school finance.. Sold real estate and insurance. Assistant Chief of Staff 6th Army. Certified Army Logistician.
BOARD SERVICE– Ramona School District, SDCEA, Keyboard Finance Corporation, Creditor Committees, Advisor to Ramona Historical Society and …..
EDUCATION –BA- U of MN, MS- USC, PhD- Claremont Graduate U , Graduate -Army Command & General Staff College , Ft. Leavenworth, KS & The Army War College, Carlisle, PA.
My personal philosophy is anchored in optimism. Connie and I enjoy and value living in the Estates for 27 years .I will appreciate your votes. I am listed last on the ballot. " last shall be first"
I WILL FOLLOW THE GOLDEN RULE Vote for JOHN RAJCIC