John Rajcic "like magic" For School Board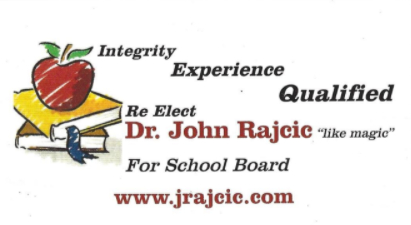 My personal philosophy is anchored in optimism. Life is like a coin. You can spend it anyway you choose but you can only spend it once. Students must learn to choose wisely and think critically. Student interest trumps test scores. 
EDUCATION–BA U of Minnesota. MSUSC. PhD Claremont Graduate University. Graduate Army Command and Staff College and Army War College. 
EXPERIENCE–Teacher, Deputy Superintendent. RUSD Board Member. VP/GM Kawai America Corporation. Assistant Chief of Staff 6th Army. 
WHAT OTHERS SAY: 
"Dr. Rajcic served as my Deputy...John revealed himself as a fiscal leader and an educational statesman... Dr. Rajcicis a man of keen intellect and a unique ability to move and accomplish in days projects that would take others months". Stan Corey, Superintendent Irvine. 
"Colonel Rajcic is a highly motivated officer with uncommonly good judgement". General Robert Young, Chief of Staff 6th Army. 
"John Rajcic has single handedly made more change in Ramona Unified than any board member by questioning and thinking about things differently; as it caused the entire community to think differently and create change". Roger Dohm. Trustee RUSD. 
I WILL FOLLOW THE GOLDEN RULE. 
GO TO– jrajcic.com